Commercial Interior Design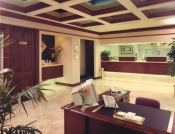 Commercial Interior Design is legally limited to those designers who hold a license by the state. Micheline Laberge, ASID abides by these high standards in order to practice design on interiors that deal with public spaces and is fully licensed.
The 2010 Florida Statutes (Section 481.203.8), regards the definition of a licensed interior designer as:
"Interior design" means designs, consultations, studies, drawings, specifications, and administration of design construction contracts relating to nonstructural interior elements of a building or structure.
"Interior design" includes, but is not limited to, reflected ceiling plans, space planning, furnishings, and the fabrication of nonstructural elements within and surrounding interior spaces of buildings.
"Interior design" specifically excludes the design of or the responsibility for architectural and engineering work, except for specification of fixtures and their location within interior spaces. As used in this subsection,"architectural and engineering interior construction relating to the building systems" includes, but is not limited to, construction of structural, mechanical, plumbing, heating, air-conditioning, ventilating, electrical, or vertical transportation systems, or construction which materially affects lifesafety systems pertaining to firesafety protection such as fire-rated separations between interior spaces, fire-rated vertical shafts in multistory structures, fire-rated protection of structural elements, smoke evacuation and compartmentalization, emergency ingress or egress systems, and emergency alarm systems.
There is a strong distinction between a licensed Sarasota interior designer and others that are non-licensed. Micheline Laberge, ASID offers complete interior design services for both types of interiors but specialtizes in experience with commercial interiors.
Sarasota Commercial Interior Design services offered are:
Interior design for corporate, commercial, hospitality, restaurant & healthcare.
Space planning for Tenant improvement/Office design
Construction documentation
Furniture, fixture, and equipment (FF&E) specifications and Procurement
Project Supervision & Management
Custom signage and graphics
Lighting design
Fine art consultation
Sarasota Commercial Interior Design Installations:
Tortuga Condominium
Beneficial Communities
DkVogue
Café 1660
Stan Weaver & Company
Inn on the Beach/Longboat Key Club

Palm Bay Club Tower
Boyer & Ferrell, PA
988 The Boulevard of The Arts
Venice Hospital
Kogerama Building